Maximus Pro
100% CNC T6061 aluminum construction
Micro Adjust elevation and windage
Tool-Less feature on windage and elevation adjustment
1.625" Inside diameter round aperture
Accepts 1.75" diameter lens (Lens retainer ring and O-ring sold separately)
5 pins available in .010, .019 or .029
Laser etched elevation and windage scales
Rheostat LED light kit
3rd axis adjustment
6" dovetail bar mounting system
High and low sight mounting system with built-in offset for extended sight window
Anodized matte black finish
Available in left or right hand
Weight: 12 Ounces
MSRP: $204.99

Tech Tip:
After sighting in your Maximus sight, (while in the locked position) turn the adjustment knobs counter-clockwise until they are completely tight. Doing this will take up any slack that may have been left in the adjustment.
Maximus
100% CNC T6061 aluminum construction
Micro Adjust elevation and windage
Tool-Less feature on windage and elevation adjustment
1.625" Inside diameter round aperture
Accepts 1.75" diameter lens (Lens retainer ring and O-ring sold separately)
5 pins available in .010, .019 or .029
Laser etched elevation and windage scales
Rheostat LED light kit
3rd axis adjustment
High and low sight mounting system with built-in offset for extended sight window
Anodized matte black finish
Available in left or right hand
Weight: 9 Ounces
MSRP: $179.99

Titan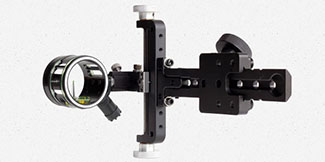 Simple, Durable, Precision Engineered, Performance
A complete target sighting system in one package.

100% CNC T6061 aluminum construction
1.5" Cyclops dual rod scope
Solid steel machined up-pin in .010 or .019
Rheostat LED light kit
Includes 1.75" lens (2x, 4x or 6x - 6x only available in the upgraded Feather Vision Verde Lens option), with retainer ring and O-ring
Micro adjust elevation, choose between 2" (Short) or 3.5" (Long) of travel
Micro adjust windage
6" dovetail bar mounting system
3rd axis adjustment
Preprinted yardage tapes
Hard carrying case
Available right or left handed
Weight: 12 Ounces
MSRP: $355.99
Pro Tip: Setting up the Titan
Trident Competition
100% CNC T6061 aluminum construction
1.5" Inside diameter round aperture
Accepts 1.75" diameter lens (Lens retainer ring and O-ring included)
Solid steel machined up-pin in .010 or .019
Rheostat LED light kit
Micro adjust elevation, choose between 2" (Short) or 3.5" (Long) of travel
Windage gang adjustable
6" dovetail bar mounting system
3rd axis adjustment
Preprinted yardage tapes
Hard carrying case
Available right or left handed
Weight: 13 Ounces
MSRP: $254.99
Trident Hunter
100% CNC T6061 aluminum construction
1.5" inside diameter round aperture
Accepts 1.75" diameter lens (lens retainer ring and O-ring included)
5 pins available in .10, .019 or .029
Rheostat LED light kit
Micro adjust elevation, with 2" of travel
Windage gang adjustable
6" dovetail bar mounting system
3rd axis adjustment
Preprinted yardage tapes
Hard carrying case
Available right or left handed
Weight: 13 Ounces
MSRP: $239.99
Centurion
100% CNC T6061 aluminum construction
1.5" inside diameter round aperture
Accepts 1.75" diameter lens (Lens retainer ring and O-ring not included)
Solid steel machined up-pin in .010 or .019 (Multiple pins also available)
Rheostat LED light kit
Approx 2" in elevation travel
3rd axis adjustment
Preprinted yardage tapes
Available right or left handed
Weight: 12 Ounces
MSRP: $179.99
Centurion Hunter 2.0
100% CNC T6061 aluminum construction
2.0" inside diameter round aperture
5 pins available in .010, .019, or .029
Rheostat LED light kit
Approx 2" in elevation travel
3rd axis adjustment
Preprinted yardage tapes
Available right or left handed
Weight: 13 Ounces
MSRP: $219.99
Centurion Hunter 1.5
100% CNC T6061 aluminum construction
1.5" inside diameter round aperture
5 pins available in .010, .019, or .029
Rheostat LED light kit
Approx 2" in elevation travel
3rd axis adjustment
Preprinted yardage tapes
Available right or left handed
Weight: 13 Ounces
MSRP: $219.99
Apex 3rd Plane
100% CNC T6061 aluminum construction
2" inside diameter round aperture
5 pins available in .010, .019, or .029
Laser etched elevation and windage scales
Rheostat LED light kit
6" dovetail bar mounting system
3rd axis adjustment
High and low sight mounting system with built in offset for extended sight window
Anodized matte black finish
Available right or left handed
Weight: 12 Ounces
MSRP: $139.99
Apex 3rd Plane 1.5
100% CNC T6061 aluminum construction
1.5" inside diameter round aperture
Accepts 1.75" diameter lens (Lens retainer ring and O-ring sold separately)
5 pins available in .010, .019, or .029
Laser etched elevation and windage scales
Rheostat LED light kit
6" dovetail bar mounting system
3rd axis adjustment
High and low sight mounting system with built in offset for extended sight window
Anodized matte black finish
Available right or left handed
Weight: 12 Ounces
MSRP: $139.99
Twilight Hunter
100% CNC T6061 aluminum construction
2" inside diameter round aperture
5 pins available in .010, .019, or .029
Laser etched elevation and windage scales
Rheostat LED light kit
3rd axis adjustment
High and low sight mounting system with built in offset for extended sight window
Anodized matte black finish, Lost Camo, Mossy Oak Break-Up Infinity, Real Tree AP and Real Tree APS
Available right or left handed
Weight: 9 Ounces
MSRP: Starting at $114.99
Twilight Hunter 1.5
100% CNC T6061 aluminum construction
1.5" inside diameter round aperture
Accepts 1.75" diameter lens (Lens retainer ring and O-ring sold separately)
5 pins available in .010, .019, or .029
Laser etched elevation and windage scales
Rheostat LED light kit
3rd axis adjustment
High and low sight mounting system with built in offset for extended sight window
Anodized matte black finish
Available right or left handed
Weight: 9 Ounces
MSRP: $114.99
Twilight Hunter 1.5 Right Handed - Camo
100% CNC T6061 aluminum construction
1.5" inside diameter round aperture
Accepts 1.75" diameter lens (Lens retainer ring and O-ring sold separately)
5 pins available in .010, .019, or .029
Laser etched elevation and windage scales
Rheostat LED light kit
3rd axis adjustment
High and low sight mounting system with built in offset for extended sight window
Available right hand only
Weight: 9 Ounces
MSRP: Starting at $114.99
Apex Hunter
100% CNC T6061 aluminum construction
2" inside diameter round aperture
4 pins available in .010, .019, or .029
Laser etched elevation and windage scales
High and low sight mounting bar with built in offset for extended sight window
Anodized matte black finish
Available right or left handed
Compatible with the New Sword LED Light
Weight: 9 Ounces
MSRP: $77.99
Sabre
100% CNC T6061 aluminum construction
2" round aperture
3 pins available in .010, .019, or .029
Laser etched elevation and windage scales
High and low sight mounting bar with built in offset for extended sight window
Anodized matte black finish, Lost Camo, Lost Camo AT and Muddy Girl
Available right or left handed
Compatible with the New Sword LED Light
Weight: 6 Ounces
MSRP: Starting at $67.99